CALL FOR CONFERENCE Educational science – Possible answers for the challenges of the new millennium 14. Training and Practice International Conference on Educational Science
Date: 2–4. September 2021.
Venue: MATE Kaposvár Campus (7400 Kaposvár, 40. Guba Sándor Str.)
The Hungarian University of Agriculture and Life Sciences Institute of Education in cooperation with Benedek Elek Faculty of Pedagogy of the University of Sopron is pleased to welcome colleagues teaching and researching on any level or area of education on the 14th conference on educational science. Professionals of higher education, teachers of primary and secondary school teachers, kindergarten teachers, early childhood educators, special needs teachers and psychologists are awaited, who are willing to exchange their views on reforms in pedagogy. The organizers of the conference invite participants with lectures but a cordial welcome is extended to all interested in this professional work.
Symposiums, thematic oral presentations and posters can be presented at the conference. Registration in all three categories is possible by submitting the abstract electronically. The length of abstracts is between 2000–3000 characters. The sympsiums may consist of 4-5 presentations. The languages of the conference are English and Hungarian. All professional materials are assessed according to the referee system of scientific conferences.
Scientific program committee: Csaba Csíkos, Ágnes Engler, Aranka Híves-Varga, Josip Ivanovic, Gabriella Papp, Judit Podráczky, László Varga
Participation in the conference is free, but registration is compulsory. Conference proceedings package, meals and refreshments and bypass programs are provided for the participants on all three days of the conference.
Notice of abstract admission: 24 May 2021.
All further information connected to the upload of professional material can be found on our website kepzesesgyakorlat.uni-mate.hu/en.
Questions may be asked from the organizers on the following e-mail address: kgykonf@uni-mate.hu
Petőné Melinda Csima


secretary of the conference

Judit Podráczky


president of the conference
Kaposvár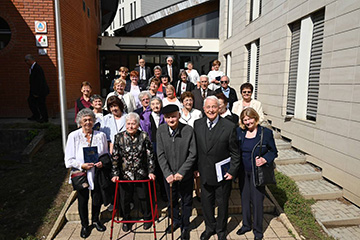 News
Photos
The photos taken at the conference can be found at this link.
2021-09-16 04:04:07
Proposal submission deadline extended
The deadline for proposal submission for the Training and Practice International Conference on Educational Science 2021 has been extended till Wednesday, 2 June, 24:00 CET.
2021-05-21 14:41:31
Online Registration
Online Registration and Abstract submission open on 20 April 2021
2021-03-12 00:00:01