Online registration
The conference registration will be open from 20th April 2021 to 24th May 2021.
Having received your registration, we will send you an e-mail with a link to the e-mail address you provided. Please click on the link to confirm and verify your registration. In case you do not receive our e-mail within a few hours, please do not hesitate to contact the organizers.
The data provided during the registration process must not contain any of the following special characters:
" ' \ / * %
Kaposvár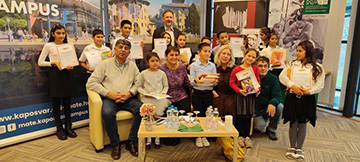 News
Photos
The photos taken at the conference can be found at this link.
2021-09-16 04:04:07
Proposal submission deadline extended
The deadline for proposal submission for the Training and Practice International Conference on Educational Science 2021 has been extended till Wednesday, 2 June, 24:00 CET.
2021-05-21 14:41:31
Online Registration
Online Registration and Abstract submission open on 20 April 2021
2021-03-12 00:00:01